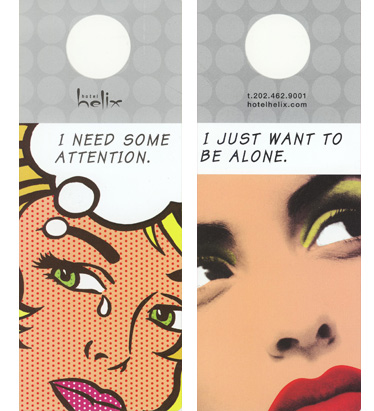 The words, "Do Not Disturb" have never sounded so sweet, or looked so unique.
Hotels and other lodging destinations are becoming more creative about how they approach this straight-forward message. And they aren't the only ones; these signs are no longer exclusive to places where people rest their heads for a night or two. Artistic versions of these signs are appearing everywhere. Specialty shops, Ebay, and even Etsy has entire art sections dedicated to putting a sweet twist on the universal thought — leave me alone!
While these signs make some chuckle, to others they are tools for marketing. There is even one man who has made collecting a hobby of collecting this signage. Edoardo Flores, is a retired civil servant from Italy. He has the largest collection and online database of "Do Not Disturb" signs. On his website, he states how his addiction collection "started by chance with a 'do not disturb' sign taken as a souvenir from a hotel in Pakistan." He continues to say that his collection is inching close to 6,800 signs from over 180 countries. He still collects these souvenirs and is happy to talk to anyone who shares his interest, or has come across a classic door sign. You can e-mail Edoardo at dndcollector@gmail.com. Also, peruse through much of the  "Do Not Disturb" sign collection on his Flickr account.
Traditionally, a "Do Not Disturb" sign has been placed on the doorknob to let others know they should not enter. This is why they are most often seen in hotels or locations of public lodging. It is a nice way to let staff members, like housekeeping, know that they are not to enter a guest's domain. In some hotels, rather than having a "Do Not Disturb" sign, they have a "Make Up the Room" sign, or a "Privacy Please" note to inform staff they are not to enter.
Another polite approach to granting or refusing one access is to apply a little creativity to the message. Hotels all over the world have use this technique to advance the straight-forward message with subtlety. In 2008, Embassy Suites held a contest to see who would soften the "Do Not Disturb" message by adding some humor. Over 7,000 people submitted ideas. The following 3 slogans won:
For some time now, creative slogans and artistic designs have been used to soften the straight-forward message, "Do Not Disturb." If you want to see an endless arrangement of these creative techniques, view ABC News Travel Special called, "Do Not Disturb Me!!!"
Be an Artist in 2 minutes with Segmation SegPlay® PC (see more details here)
SegPlay® Mobile iTunes now available for iPhone and iTouch