Do-it-Yourself (DIY) projects are all the rage. With craft shops and hardware stores popping up on every corner, any idea seems within reach. More and more people are jumping on the DIY bandwagon, expressing their enthusiasm for projects like homemade crafts and home remodeling. This is evident on television and social media networks, where creative décor and practical construction are encouraging the inventive spirit. Nowadays, there is less desire to hire contractors or buy assembled decorations; instead, many people opt to do these things themselves.
With this new surge of independence, we easily forget that DIY projects have been around for ages. In fact, before industrialization, it could be said that life was completely "Do-it-Yourself." However, even in the 20th century, when manufactured products became readily available, people still chose to do some things themselves. Now, in the 21st century, the DIY craze is sweeping the United States and much of the world.
The Original DIY Project
When exactly did DIY (as we know it today) begin appealing to the general public? "DIY Painting," a new WordPress blog, reminds us of the history of DIY by pointing to paint by number.
Paint by number first appeared in 1950 and boasted the tagline, "Every man a Rembrandt." In fact, the greatest benefit of paint by number—in addition to its stress relieving nature and low cost—is that anyone can produce amazing artwork. In this regard, it was the original do-it-yourself home decorating option, as well as gift and craft project.
The Evolution of Paint by Number
Today, paint by number is still around but its appearance is different. Computer technology makes virtual paint by number sets available on personal computers and mobile devices like smartphones and tablets. With Segmation, it is possible to become an artist in minutes by downloading virtual paint by number software and patterns.
Nevertheless, the heart of paint by number is the same. As the DIY Painting blog accurately points out, "Everyone can participate, using the usual leisure time, painting a beautiful picture [with] paint by number kits." Paint by number is an enjoyable activity that makes any person an artist within minutes. In this sense, paint by number is still the epitome of do-it-yourself projects. The only difference between paint by number and other DIY projects is guaranteed success.
Segmation – Paint by Number for the Digital Age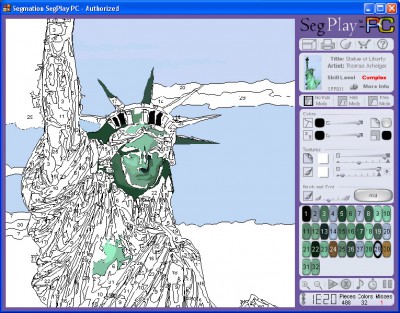 Segmation makes it easy to create artistic masterpieces. Each month they release paint by number patterns that allow you to paint like the greats, including Leonardo da Vinci, Henri Rousseau, and Vincent van Gogh. They also produce fun patterns for holidays and special celebrations (see Halloween Spirit and Amigos). By releasing new paint by number pattern sets regularly, Segmation satisfies that itch many people have to take on DIY projects.
DIY is not new but the technology encouraging and spearheading today's projects is novel. If you crave a project that allows you to express your creativity and produce successful art, explore the original DIY. Explore Segmation paint by number software and patterns.
Read more Segmation blog posts about art and color:
Professionals Integrate Paint by Number Into Their Careers
"Paint by Number" Kits Create Thousands of Artists
Museum Curator Elevates Prestige of Paint by Number Art
Be an Artist in 2 minutes with Segmation SegPlay® PC (see more details here)
Join us on FacebookSegPlay® Mobile iTunes now available for iPhone and iPad