If a picture is worth a thousand words, a political cartoon could be considered a lengthy editorial.
Today, political cartoons have the power to catch a reader's eye in a sea of digital information but once upon a time political cartoons were vital to the consumption of information by society at large.
Take a journey to the beginning of political caricature drawings to fully understand how this art form stood the test of time.
In the Beginning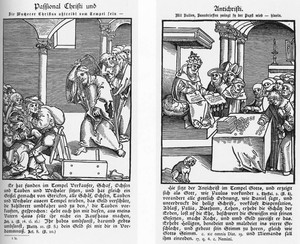 Even though caricature drawing was around during the time of Leonardo da Vinci, it was not considered art until politics got involved. However, a shift in thinking began to occur when, in the 16th century, a merchant class began to arise. This meant that leadership in civilized societies no longer belonged exclusively to high-class-educated-folk. People within the villages were seen as leaders too, even though several of them were illiterate.
The power of the middle class was recognized by Martin Luther, who was passionate about advancing reforms that went against the Catholic Church. To gain support for these reforms, Luther acquired visual tools. Using pamphlets like Passional Christi und Antichristi allowed Luther to spread his message of reform and gain the support of people who could not read.
Then came Benjamin Franklin
In 1754, another milestone in political art occurred when Benjamin Franklin had "Join, or Die."
published in the Pennsylvania Gazette. In it, he used a picture of a disjointed snake to represent the importance of the colonies coming together to overcome conflict with the Iroquois. The image and slogan were revered by people in every colony, and the authors of The Ungentlemanly Art: A history of American Political Cartoons claim it was published in "virtually every newspaper on the continent."
Following the Civil War
Thomas Nast has been called the "Father of the American Cartoon." In fact, he is credited for elevating the elephant and donkey to positions of political notoriety. More so, President Lincoln often referred to Nast as "his best recruiting sergeant." But arguably, Nast's most famous cartoon could be found in Harper's Weekly as early as 1871. He drew pictures of the corrupt politician William "Marcy" Tweed, which garnered "one of the most celebrated specimens of graphic social protest in American history."
Political Cartoons Today
Political cartoons and cartoonists can have just as much influence today as they did before the Information Age. However, the type of influence is different. Rather than provoking people to take action (as they did in the past), political cartoons are excellent teachers of history. The World Affairs Council claims, "Because a political cartoon is a primary source from a particular era, it is a valuable tool for teaching history."
In the Information Age, when words are plentiful but facts are fleeting, political cartoons disrupt mundane content, evoke curiosity and enable readers to learn about historical events – not from a textbook, but from self-guided quests.
The history of political cartoons goes far deeper than this article, and, if history is any indication, it will continue for years to come. Stay tuned.
Read more Segmation blog posts about art and color:
The Style and Poise of a Colonial American Portrait Painter
Thomas Moran – American Landscape Painter
What is Art? A Brief History of the Definition of Art
Be an Artist in 2 minutes with Segmation SegPlay® PC (see more details here)
Join us on FacebookSegPlay® Mobile iTunes now available for iPhone and iPad